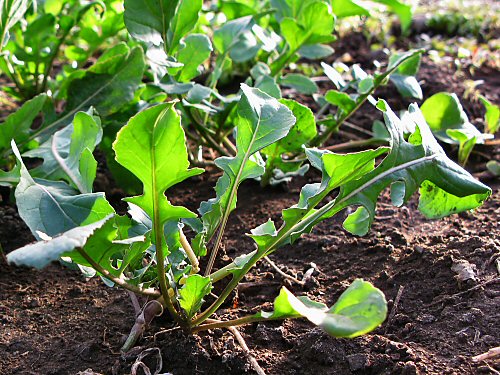 We all remember
Rapunzel
--the damsel locked away in the tower, with the long, long hair. Do you remember how she got there? Pregnancy cravings. Rapunzel's mother lived next door to a witch and watched her tend her garden. There was a green there that the woman craved desperately. She begged her husband, and he went not once, but twice, to snatch those well-tended greens so his best beloved could make herself a salad. The second time around he was caught, and as punishment after the birth the witch made off with their daughter.
I'm not sure about your version; in the one I was raised on it never identified the particular green that induced the poor woman's cravings. But I have a theory. In fact, when I acquired a taste for it, I realized this is what Rapunzel's mother wanted: arugula.
They call it rocket in England, and although a
favorite chef of mine
despises it, I love the bitter, mustardy, green taste. The other night I made a simple tomato sauce: heat olive oil, slivered garlic, add chopped fresh tomatoes, a handful of basil. When the tomatoes are soft and pulpy pour over hot pasta, and add a couple of fistfuls of arugula. Delicious.
Last night I made myself a salad for dinner: handfuls of arugula, a squeeze of lemon juice, olive oil, chopped fresh tomatoes, sea salt. Divine. So good I made myself another. I feel for Rapunzel's mother, I really do.