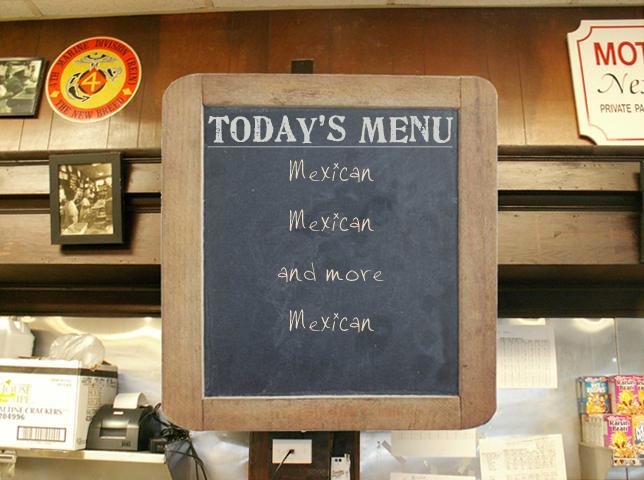 At a playground
years ago another mother leaned over and asked me how I got my kids to eat those tacos and burritos they were munching. Easy, I said. If they didn't eat Mexican food, they'd starve. And that's pretty much true to this day, although the kids are much more capable. My son can make a pretty nifty alfredo fettucine and my daughter can microwave gyoza like a master. But the food I make has pretty much stayed the same: Mexican, Italian, mainstream American, with occasional mouthfuls from France, Ashkenazy Jewish traditions, and Asia.
Awhile back I served with a flourish one of my favorite Diana Kennedy recipes: pollo con rajas. Chicken with chile strips. Drenched in Mexican sour cream, topped with cheddar cheese, an absolute mouth-watering casserole dish served with perfect Mexican white rice.
"What makes this Mexican?" my dinner guest asked.
I wanted to whip out my machete and tell him, "Because Diana and I say so!" Instead, I realized it was a dish he had never seen on menus this side of the border, and that he remained unconvinced. Harumph. He had other problems as well, and since neither a meal nor a machete was going to fix any of those issues, I let it go. (You can tell, right? I don't take things personally).
Enough about identity politics. Let's get to the meat of the matter.
Pollo con rajas
Chicken
:
Salt and pepper 6 breasts. I like to slice them horizontally, getting two for the price of one. Cooking takes less time and they seem more tender and delicious. Saute them briefly in a combination of butter and oil. Place the chicken breasts in a large baking pan.
For the rajas
: (chile strips--pronounce the j as an h)
2 lbs chiles pasillas
1 onion
Lay your chiles on the grates of your gas stove. Turn on to high; turn the chiles until they are evenly roasted. Yeah, they'll look black.
Put the chiles in a plastic bag to sweat it out. When cool remove the charred skin, seeds and veins; cut the chiles into strips. Set two chiles aside for later.
To the skillet add the sliced onion, cooking until soft. Add the rajas, or strips. Stir to coat with oil/butter. Salt, cover, now lower the heat and cook for about 8 minutes.
In a blender add the chiles you set aside, two cups Mexican sour cream, half a cup milk, half a teaspoon salt. Blend.
When the rajas have finished, remove them from the skillet and add to the baking dish, spread evenly over the chicken. Add the mixture from the blender. Bake at 350 degrees for twenty minutes. During the last few minutes top with half a cup of grated cheddar cheese.
Serve with white rice, corn tortillas, and beans, of course. You can thank me and Diana after you've tasted it.