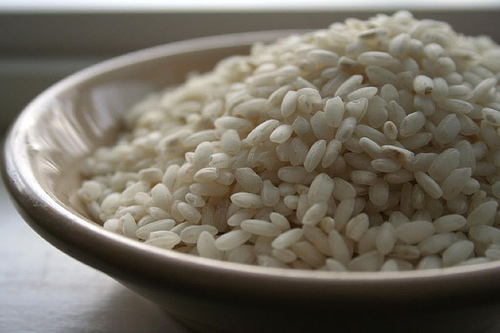 The kids have flown
, the spouse is out of town.
Sola, perduta, abbandonata
, as the Puccini aria goes.
On the upside, the menu is all my own.
Here's something I made for myself. Full confession: I actually had shrimp stock in the freezer, making it so much more memorable.
In a heavy sauce pan heat a teaspoon or so of
vegetable oil
. Add a tablespoon of
shallots
. Stir until transparent, or cook until caramelized a bit. Stir in half a cup of
risotto
, heat through. Splash with white wine, stir until evaporated. Add salt.
A half a cup of watered down stock at a time, add to sauce pan, stirring over medium heat, until liquid is absorbed. Keep doing this until the rice is done to your desired consistency (cooked through, but not mushy). This may take 15 minutes. At last, stir in a teaspoon of unsalted butter, a scattering of chopped herbs: tarragon, parsley, chives and half a cup of crab (canned, I'm not fussy) stirring until heated through.
A little fume blanc with your meal, and you could be singing like
this
.